My criteria for a good laptop backpack:
separate compartment for laptop
large middle compartment with zipper that zips all the way down with gussets is best (pain to open something only half way!)
exterior height dimension should be about 15"-16" (more and it's way too big. I have a decent laptop backpack from JanSport Insider backpack and it measures 17.5" in height and I'm swimming in it. Since I also have a tiny laptop, this backpack is just WAY too big)
12" wide is good
ideal if there was a water pocket but won't make or break...
Here are the contenders:
First the frontrunner:
Knomo Bathhurst Laptop backpack
Pros: very attractive (comes in other colors), adultish, interesting zipper compartment, zippers go almost all the way down
Cons: pricey ($159) and may be too small?
Samsonite Network 2
16.5" H x 12.4"W x 9.4"D
about $70-$100 USD
Pros: nice looking, compact but will definitely hold everything I need, second zipper unzips all the way with gusset
Cons: hard to find...(may order from Amazon.uk and pay for intl. shipping)
Targus 16" Ultralight Backpack (TSB515US)
17.75"H x 12.24"W x 4.5" D
about $30.00
Pros: affordable, attractive enough, slim
Cons: on the tall size and maybe not deep enough?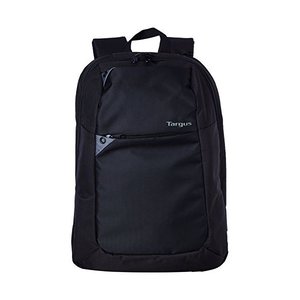 I bought the DubYao 13" Lightweight laptop backpack hoping it would do, but it doesn't hold enough for me (I think it's because of the 3" depth).
15"H x 11"W x 3"D
$39.99
Pros: affordable, attractive
Cons: just too small, not as comfortable as one would think...
So what do you think? Have a favorite?